Sale!
DF103 Marukan Amino Milk Cookies 250g
Marukan original taste of Amino Milk Cookies for dogs.
Description
CARING FOR YOUR PETS !
Chewing is very important for your dogs oral and mental health. It keeps his teeth clean, his body exercised and his mind occupied. Having your dog chew on a toy is also important to prevent behavior problems and chewing on inappropriate objects. A dog that has chewed for 30 minutes is busy, contented and then more apt to take a nap than steal your wallet!
MARUKAN BISCUIT DOG TREATS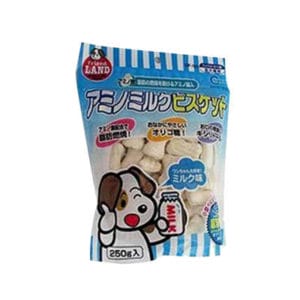 Introducing (DF103)
Marukan Amino Milk Cookies 250g
Contains:
Flour, Oligosaccharide, Amino Acid, Dehydrated Milk Powder
Mineral, Calcium, Xylitol, Urine Deodorising Ingredient
Nutritional Analysis:
Crude Protein Min 15%
Crude Fat Max 10%
Crude Fiber Max 1.5%
Ash Max 8%
Moisture Max 2%
Energy 390kcal
Directions:
Puppy 1 to 3 pc/day
Mini Breed (1-5kg) 2 to 5 pc/day
Small Breed (5-10kg) 5 to 10 pc/day
Medium Breed (10-15kg) 10 to 15 pc/day,
Large Breed (above 20kg) 15 to 25 pc/day
Purchase Now!
Q & A
There are no questions yet