Sale!
Petkin Pet Approved EarWipes Wet Wipes 30s
removes dirt, odor & wax
helps soothe itching
Description
Caring for Your Pets
Cleaning for your pets can be a heavy chore and sometimes they just don't need a thorough bath. Just a simple wipe should do the job. However, conventional wet wipes can be harmful for your pets if they consume the solution from the wipes (through licking), esp. if one of the ingredients is Propylene Glycol. The best way is to get a proper pet wipes.
Introducing Petkin EarWipes 30s: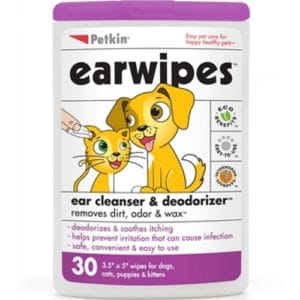 removes dirt, odor & wax
helps soothe itching
Veterinarian approved Ear Wipes provide the most convenient way to keep your pet's ears clean and healthy. The gentle formula on these specialized pet wipes removes dirt, wax and discharge found around the ears to help prevent odor, itching and infection.
Ingredients:
Pure Witch Hazel, Aloe Vera Gel, Chlorhexidine Gluconate, Botanical Extracts.
Directions:
To open, lift bottom edge of front label. Remove and unfold cloth. (Reseal package by firmly pressing label back down.) Gently wipe around ear until clean. Do not force into ear canal. Use a new pet wipe for each ear. Safe for daily use.
Q & A
There are no questions yet