Sale!
PetSport USA Mini Fling Thing – Blue
No more touching slobbery balls
Great swing and toss action and perfect for tug-of-war
Thick, durable balls made safe for dogs
Solid core rope is soft but durable
All tugs float for water dogs
1.8″ (Mini Fling Thing), 2.5″ (Fling Thing) or 4″ (Giant Fling Thing) ball attached at the end
Description
CARING FOR YOU PETS !
Chewing is very important for your dogs oral and mental health. It keeps his teeth clean, his body exercised and his mind occupied. Having your dog chew on a toy is also important to prevent behavior problems and chewing on inappropriate objects. A dog that has chewed for 30 minutes is busy, contented and then more apt to take a nap than steal your wallet!
Introducing PetSport USA Mini Fling Thing – Blue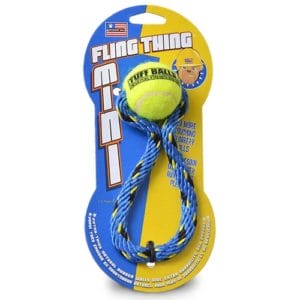 This Mini Disco Tug dog frisbee combines the fetching fun of a frisbee with the rugged strength of a tug toy. Durable double thick fabric flying disk is built to last and floats. The rope ring gives Disco Tug perimeter weighting which makes it easy to throw.
Purchase Now!
Q & A
There are no questions yet