Sale!
Prama Salmon 70g
Exotic Flavored Treats
Made with Fresh Chicken Meat
Feed as a Snack or Use for training, as a reward or to show how much you care.
Out of stock
Description
CARING FOR YOUR PETS!
Chewing is very important for your dogs oral and mental health. It keeps his teeth clean, his body exercised and his mind occupied. Having your dog chew on a toy is also important to prevent behavior problems and chewing on inappropriate objects. A dog that has chewed for 30 minutes is busy, contented and then more apt to take a nap than steal your wallet!
PRAMA DELICACY SNACK
INTRODUCING PRAMA SALMON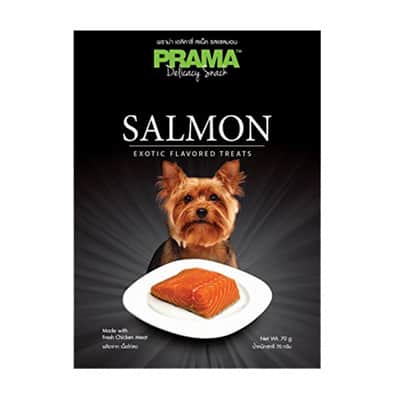 Contains:
Chicken Meat, Tapioca Flour, Wheat Flour, Soy Protein,
Sobitol Powder, Salmon Flavor, Glycerin, Wheat Gluten,
Gelatin, Salt, Coloring, Preservative.
Nutritional Analysis:
Crude Protein- 9%(Min)
Crude Fat- 3%(Min)
Crude Fiber- 1%(Max)
Moisture- 15%(max)
Directions:
Dog Weight Amount
1-5 kg 1-2 pcs/day
5-10 kg 2-3 pcs/day
10-20 kg 3-5 pcs/day
Over 20 kg 5-7 pcs/day
Store in a cool, dry place.
PET FOOD ONLY
Suitable for all breeds
Once opened, consume within 7 days
PURCHASE NOW!
Q & A
There are no questions yet